We have a fantastic cohort Studio Assistants this year! Peters Valley Studio Assistants gain hands-on studio experience assisting instructors, Fellows, department heads & students during the workshop season. Please help us welcome these talented artists to campus.
Sean Fitzsimmons
Blacksmithing Assistant
Sean has been blacksmithing as a hobbyist for about 7 years.  He started his journey at Peters Valley taking knife making classes. His passion is for anything with an edge, and he draws inspiration from historical arms. Sean's crowning achievements in blacksmithing are two single hand European cruciform swords. He is excited to refine his craft and expand his technical knowledge during his assistantship.
Grace Kerr
Ceramics Assistant (May-July)
Grace Kerr was born in Kaohsiung, Taiwan and moved to United States in 1987. She received her Associate Degree from the Clarissa School of Fashion Design and her BFA from Queens College, City University of New York. During her senior year at Queens College she had the honor to be the first BFA student to hold a solo exhibition "Freedom of Mind" which incorporated ceramics works with paintings and sculptures. Grace attended the 2018 Taoxichuan Autumn Collection international show in Jingdezhen, China for Queens College. She was appointed as an assistant and translator for the "Blue and White" Workshop for Hu Jun from Jindezhen Ceramic Institute, China at Peters Valley School of Craft. Currently, Grace is participating in a work study program at Queens College as an assistant ceramic studio technician. She has been admitted for Fall 2021 as a Master of Fine Arts student at Syracuse University. Prior to pursuing a career in ceramics, Grace spent over 25 years working as a Technical Designer in the New York fashion industry.
Mollykate Geddis
Ceramics Assistant (May-July)
Mollykate Geddis will be attending Wichita State University this fall as an MFA candidate in Studio Art.  She recently completed a Post Baccalaureate program in ceramics at the Hartford Art School, Bloomfield, CT, where she made functional and sculptural vessels. While at the University of Hartford Art School Mollykate has been a teaching assistant for Introduction to Ceramics I and Advanced Throwing. She received her BFA in ceramics at Keene State College, Keene, NH in 2018 where she received the ceramic fellowship and graduated Summa Cum Laude. After which, she worked at the production pottery studio, Laura Zindel Design in Brattleboro, VT. She has been a ceramic instructor for the Cheshire Academy for Lifelong Learning and the Pottery Piazza, teaching private and group classes for introductory hand building and wheel throwing.  You can find her work on her instagram @mkg.ceramics and Etsy mkg.ceramics.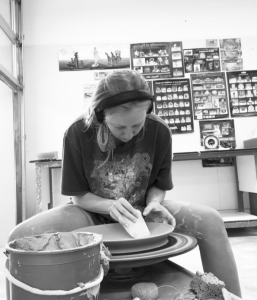 Mary Maglieri
Ceramics Assistant (July-August)
Mary Maglieri is a graduate of Longwood University with a degree in Design and Craft as well as holds a minor in Communication Studies. She is from Virginia where she has spent most of her time. Mary has focused her time at University working within ceramics and finds a heavy influence from the making process and its impact within her life. She enjoys recording her processes either through photos or written documentation. As she grows within this medium, Mary continues to refine her work in order to cultivate a more unique voice. She is inspired by various elements that correlate with the human condition some being nature, behavior and philosophical concepts and often refers back to this notion of conceptualizing the inconceivable.
Bella Norton
Ceramics Assistant (July – August)
Bella currently resides in Humboldt, California where she is studying wildlife conservation and botany. You can find her searching for wildflowers, looking at clouds, hunting for agate, rock climbing, drinking hot cocoa, biking, reading a book, or out in the garden. Bella grew up in San Diego, California, and played with her first clay in middle school where she met a favorite teacher of hers, Mr. Steve Cook. According to Mr. Cook, art is three things: demonstration of the plasticity of the material, decision-making, and specialness. Bella carries these words to her work and life today. She took ceramics every year and ran her high school Dead Potter's Society, organizing student sales and their famous Raku-BBQs. Her first job was at a ceramics summer camp in Balboa Park with the San Diego Potter's Guild. When Bella first moved up to college, she took a year off from the studio as she felt she needed to focus on her wildlife studies. However, the addiction proved too difficult to suppress and she soon found herself at a wheel once again. She brought her studies into her work to justify the many hours spent there. Her work now often involves the flora and fauna of the place she is in, from literal pressings to horizon lines, to scraffito drawings. Her favorite way to manipulate clay is on the wheel. Bella loves the entire process, from stream bank to kitchen table. She seeks to replicate natural processes that make the patterns she sees in the environment around her. And she loves to give mugs and bowls to people to use. Seeing someone drink a quiet cup of tea out of a mug that she made to her is the most special thing.
Celia Shaheen
Fibers Assistant (May-July)
Celia Shaheen is a craftsperson, teaching artist, devoted cook, and lifelong student with roots in Texas. In 2020, Celia graduated with a BFA in Studio Art, a BA in Honors Art History, and a Museum Studies certificate from the University of Texas at Austin. Additionally, she has studied fiber art and papermaking at the Nova Scotia College of Art and Design, Oxbow School of Art, Paper & Book Intensive 2018, and Penland School of Craft. Celia's studio practice oscillates at the intersection of archiving and making, utilizing materials across the spectrum of textiles, printmaking, bookmaking, and papermaking to investigate and discuss gendered labor and craft, Lebanese culinary traditions, posthumanist folklore, and the shared histories of textiles and oral storytelling. As a teaching artist, she is committed to inspiring and guiding learners towards the formation of personal connections—in, through, and about the arts—while prioritizing safety and inclusion, collaboration, personal voice, and moments of choice.
Carl Johnson
Fibers Assistant August-October
Carl Johnson is an artist originally from Washington, DC. He received his BFA in Fibers in 2021 from The Savannah College of Art and Design. Working in the medium of fiber arts, with a specialty in weaving, he is continuing to find tangible solutions to the ideas in his mind. His recent accomplishments include his work in shows such as Art Fields and the Moving Fiber Show. After working this summer as a fibers studio assistant at Peters Valley School of Craft, he will be an artist in residence at The Houston Center for Contemporary Craft.
Madie Maier
Fine Metals Assistant
Artist and jeweler Madie Maier received her BFA in the Department of Craft/Materials Studies at Virginia Commonwealth University (VCU). Maier has exhibited at VCU's Anderson Gallery and in Quirk Gallery's Tiny Shiny Jewelry Exhibition and Sale. Maier's work focuses on kinetic movement and humor, creating playful jewelry objects which teeter between easily understood iconography and sculptural forms. By fabricating cages to entrap glass marbles she is able to create game-like experiences for the wearer. In recent bodies, Maier continues to blur the lines between wearability and play by experimenting with rhinestones and magnets in place of traditional stone settings.
Maggie Seinfeld
Photo/2D/Mixed Media Assistant
Maggie Seinfeld is a visual artist working with photography. Seinfeld is originally from Danbury, CT. She received her BFA in 2021 from the University of Hartford, Connecticut with a major in photography and minor in art history. She creates images that examine lost connections, retracing broken familial connections, lost generations and a broader discussion of absence. Using still photographs with objects and people creates a sense of awkwardness, pain, loss, and joy between kinships within her work.
Kat Nash
Woodworking Assistant
Kat Nash is a 21-year-old decorative artist and designer. They recently graduated from Virginia Commonwealth University with a BFA in Craft and Material Studies. They are currently residing in Richmond, Virginia, but grew up moving around the United States. Kat has shown work at numerous art spaces including the Anderson Gallery at VCU (2021), Hind Gallery in Richmond (2019), and The Mint Museum in Charlotte (2017). As a craft artist, they explore many different mediums including, but not limited to wood, ceramics, fibers, metals, and glass. Kat's largest interest is in creating functional home objects. Creating furniture with the user's body position in mind allows Kat to alter the user's spatial interactions. Themes of Kat's work include difficult conversations about chronic pain, queerness, and childhood. Integral to Kat's practice is their desire to encourage play in themself and others. While maintaining the Peters Valley woodshop, Kat is excited to network with talented educators and makers. They are motivated by the prospect of collaborating with other innovative woodshops, museums, and learning facilities.
We are grateful to the Windgate Charitable Foundation for their support of Peters Valley's 2021 Studio Assistantship Program.