Kayla (Eleven) Muldrow is one of our current Fellows through the GlassRoots program at Peters Valley this summer. She is an artist and poet, organizer, leader of ceremonies. She says her work, "is a fluid expression of the secrets of life and the changes happening within and around me." Kayla wrote this powerful piece about what her experience at Peters Valley has conjured up for her thus far. The photos are of her crown made in Ellen Durkan's class, "Wearable Forms in Metal," earlier this summer.
"Powering up the sails was easy. The smell of salt in the air. The constant unrest of the ocean. My crown heavy on my head. Pulling at the hair in my scalp. My men had just ate and drank. We passed around our last bottle of beer, and opened up fresh wine. Which didn't help the nausea but it helped the nerves. "
Being here is all about imagination. Creating and then creating more. I am a machine creating all of my entertainment as my imagination gets strengthened by the weeks. 
Sometimes I feel completely overstimulated, sometimes I feel completely bored. During the weeks I'm tired. It's everything at once and during the off days, I have existential crisis, and miss people alot. My roommate and I have a lot of fun. She watches me go through different emotions. I've been baking cookies. 
And making jewlery that makes me feel proud to be alive and proud to be a creator. 
I'm trying not to go crazy. It's a little hard, but I'm making cool things in the meantime.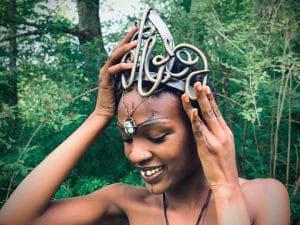 I recognize I am a huge fire or a raging gust of wind, always jumping to a new activity almost like the city lives completely inside of my body and although I'm away from it, it's constant noise and fervor haunt me. 
I haven't found complete peace yet. I've noticed an unrest in my soul. I've noticed fears, I've noticed social anxiety. I've noticed a lack of stillness. I'm grateful. I'm working through it. To be continued."