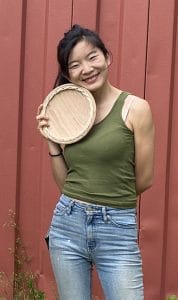 Debora Meltz, a longtime student and Peters Valley board member, recently took the class "Basketry into Woodturning" with Janine Wang (left). She kindly wrote the following about her experience in the workshop.
"I have been a member of Peters Valley since the mid-1970's. I've taken numerous workshops at Peters Valley, most of them in disciplines I had no interest in pursuing further. I just wanted to have the experience of making something different and exercising my hands and brain.
This past weekend, my friend Harriet and I took a basket weaving class at Peters Valley School of Craft. I convinced my BFF to take the class because I wanted her to discover her inner artist. Wouldn't ya know…she's a natural, while I struggled to keep the weaving straight. I'm not very good at things that require attention, patience and practice, so my first efforts were pretty dismal. But, in the end, thanks to our wonderful, patient and encouraging instructor, Janine Wang, I finally caught on. This was the class:
Peters Valley has a wonderfully warm, welcoming and relaxing  atmosphere, with no pressure, in which even a novice can do wonderful work.
I am taking two more workshops this summer, also in mediums I don't normally use and don't plan to start. But – I've said that before and then gotten hooked!
Making something tangible with one's own hands is a wonderful experience, even if the result is not great. It's good for our minds, our bodies and it 'restoreth our soul.'"
Deb's piece in progress, and the final product:
And other beautiful pieces: