Brienne Rosner, Peters Valley's Gallery and Craft Fair Director, will be leaving in June to become the Managing Director at the Society of North American Goldsmiths (SNAG). Here, she reflects on her time at Peters Valley and some of the most rewarding aspects of her role.  
Q: How long have you been at Peters Valley? 
A: I started at Peters Valley 14 years ago in 2007 part-time as the Gallery Associate. In 2009, I was promoted to Gallery Director and since 2018, I have also managed Peters Valley's Annual Craft Fair.
Q: How did you become interested in craft, and jewelry in particular?
I truly have lived the "craft school experience." Although I received my degree in Painting from Boston University, I have a diverse training in craft. One of the perks of being an employee at Peters Valley is getting to take a class every summer, so I would use my vacation days to take a workshop each year. The experience of taking classes at Peters Valley has really changed the trajectory of my career; it's ultimately how I became introduced to metalsmithing. I started bringing metals and other materials into my wall pieces, which gradually led to creating jewelry that I brought the mixed media paintings into. I also took a machine knitting class, and have a small line of knitwear that I've sold at the Peters Valley during the holidays. I've taken other classes like carving wooden jewelry and fabricating serveware, but I really clicked with metalsmithing. Because of all of the skills I learned here, my practice has evolved and this foundation has helped me go on to exhibit in shows such as the Philadelphia Museum of Art Contemporary Craft Show, where I had the honor of being an award winner in 2016. I even found out about SNAG (the Society of North American Goldsmiths) through Peters Valley.
In my spare time, I'm still a practicing artist. I admit I have definitely prioritized my  administrative  career over my studio practice, which has limited some of my ability to do shows or have a lot of time to make work, but I've always been making. In fact, when I was house hunting a few years ago, my selection revolved around an adequate studio space; my studio is the largest room in the house, what should be a master bedroom. 
Q: What have been some of your favorite parts about your role at Peters Valley?
I've particularly enjoyed developing relationships with all of the artists through the gallery and craft fair, as well as the instructors and students that come through. I also enjoy connecting artists with one other. I love seeing someone come into the gallery as a shopper, and they'll come back as a student or a craft fair exhibitor, or even become a board member. Bringing people in like that is really rewarding for me.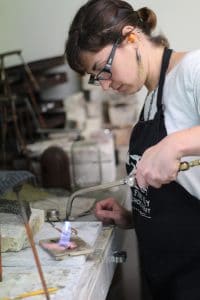 People always ask me "How do you work here and not buy everything?" and I always tell them that I own one of everything. One of the perks of working in the gallery is that I get first dibs, so there are things that come in that people never see because I buy them [laughs]. But when I talk to gallery customers, I can be very authentic, because I actually live with so many handmade pieces, many that I've purchased through the gallery or at the craft fair.
I've learned so much about other types of crafts over the years, information that I've been able to share with employees and customers alike. Whether it's about wood-fired ceramics or fiber techniques, I've learned so much just by talking to artists or listening to the Instructor Slide Presentations here. I can then go on to talk about it and help teach customers how different processes work. 
Q: What are your favorite exhibits in the Gallery since you've been here?
There have been so many really good ones. Domestic Matters: The Uncommon Apron show that Gail M. Brown curated was definitely one of the highest caliber shows that we've had. Wendy Haas, a fibers curator, also put together a really nice show of contemporary fiber in 2016. We've done some really nice juried exhibitions, such as Maker Moxie: The Impact of the Craft School Experience, also in 2016. We also had the exhibition, Nuance: Craftsmanship, Imagination, and Innovation, which was about ways in which artistic expression has merged with technology in contemporary craft. I was especially excited about that one because I do that in my own work, so it's a theme that's interesting to me. 
Q: In your role, you've had the opportunity to mentor many of the emerging artists who've come through as Studio Assistants or Artist Fellows. Can you speak to that a little bit?
I often help the Artist Fellows and Studio Assistants with professional development as it relates to selling and marketing their work. We talk about pricing, I show them how to photograph their work and edit their photos, and I can give them advice for selling at shows or in the gallery. Now, more than ever, artists need a bit of business acumen and professionalism, and you don't always get that through a university program or being in workshops.
I also tell them to be a studio assistant or apprentice at least once! I worked for the ceramist Bennett Bean when I moved to this region after graduating from college and it was very informative.
I hope that I have been able to provide some of that for them, which I really have valued. I have also equipped gallery employees with the skills to shoot product photography, use Photoshop, or even just talk more about artwork and processes. 
I believe that supporting professional artists is really important. That's why, as I've been working for the craft fair and the gallery, it's my priority to advocate specifically for that group. If we can't support professional artists, then the next generation isn't going to become a professional artist because they don't see any future in it.
Q: From your perspective as a Gallery Director, what do you think compels people to buy handmade?
Here at Peters Valley, people largely buy gifts. Giving something handmade is a really meaningful gesture and also helps people justify spending more on a quality item than shopping at a mass-produced store. Oftentimes people don't allow themselves to make those kinds of purchases for themselves, as they should. But it gives people pride when they give a gift that was handmade. And they come here, because they know they are getting quality gifts.  
Q: Why do you think places like Peters Valley are important to the field?
People come in all the time and say, "I can't make anything. I'm not an artist," and I respond "Yes, you can! I bet if you took a workshop you would have a great experience." And they do! Just allowing yourself to take class and not be self-conscious I think really helps people to see a different side of themselves that they don't ever really get to see or experience. Plus, there's something about that personal experience where you're actually touching or making something that gives you a deeper connection to materials. There's also a gratifying sense of accomplishment and pride.
Q: What has been your vision for the gallery retail store?
The thing that I've really tried to maintain is having a variety of price ranges while also ensuring quality. So, we have earrings that are $10 and earrings that are $500, but they're all high quality. There are so many different types of artists, and some choose to make production work, and some choose to make higher-end work. One is not better than the other. There are all different kinds of people that we serve, and I'm proud that Peters Valley has such a diverse group of customers and that they can all find something here. It's also important to make it welcoming; so I've been conscious not to give it that white-wall, can't-touch-anything feeling; the space has a more homey Peters Valley feel, recognizing our location in the National Park.
Q: What are you going to miss about working at Peters Valley?
I have so many pieces that I've purchased at the Weekly Auctions that are made by the summer assistants or summer staff. They're really special pieces because every time I use or see the piece, I remember the person who made it. I think about where they are now. Because I'm staying local, I will still be able to go to the summer auctions, but I won't form that deeper connection with the summer artistic staff, and I am going to miss that.
Q: Tell us about your new role at SNAG.
I will be the director of SNAG, the Society of North American Goldsmiths, which is for jewelers, metalsmiths, designers, artists. It's a great community and organization that has a particular interest in jewelry and metal arts. I'm really passionate about having a leadership role in the field of craft because I think it's important to provide opportunities for the next generations of makers as well as cultivating collectors and figuring out how to keep the craft field's vitality. 
Q: Closing thoughts?
Because I will be working remotely in my new job and can stay local to Peters Valley, I'm looking forward to staying as a part of the community. I plan to participate in events, public programs, and the Craft Fair, attend slides, and become a member.  I'm hoping to continue to visit campus often and see my friends when they come!